Our Executive board rooms are open for your business. When planning your upcoming events, consider the beautiful facilities found at the Chester County Chamber of Business & Industry. Our facilities are located in the midst of historic Chester County, offering a pleasant venue for any event, and conveniently located near the 202 corridor. It is the perfect spot for your company's off-site meeting, training session or even a social gathering. Reasonable rates are offered to members, non-members, and non-profit organizations.
Meeting rooms are available weekdays year-round (except for major holidays). For your presentation needs, we offer reliable advanced technology equipment and resources. Our equipment allows you to conduct your business easily. Staff will be onsite to assist you and technical guidance can be offered prior to meeting time.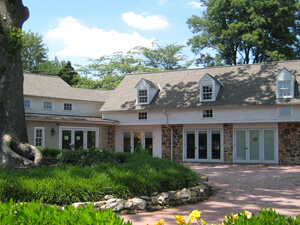 Hours of Operation
Weekdays 8:30 am to 5:00 pm
Chamber Member
$100 half day small room
$150 full day small room
$200 half day large room
$250 full day large room
Non- Member
$200 half day small room
$250 full day small room
$300 half day large room
$400 full day large room
TV Components
Teleconferencing
Plasma NEC Screens
61″ Plasma Screen (Ware Room)
42″ Plasma Screen (Boling Room)
Analog Hook-Up
Phone Line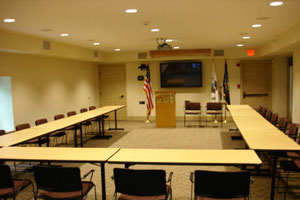 Conference Room Includes:
Theatre Style Seating for 65
Board Room Style Seating for 34
Teleconferencing
DVD/CD Player
61″ Plasma NEC Screen
Wireless Microphones
Surround Sound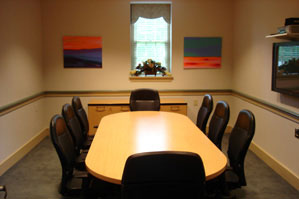 Board Room Includes:
Large Oval Table
6 Leather Executive Reclining Chairs
Speaker Phone Teleconferencing
Overhead Projector
VCR
42″ Plasma NEC Screen
Independent Room Climate Control
Male & Female Restrooms
Handicapped Accessible
On-site parking lots are conveniently located in front of the building offering plenty of free parking and handicapped accessibility. Reception areas are available in the lobby or scenic courtyard.