Why should you join the Chester County Chamber?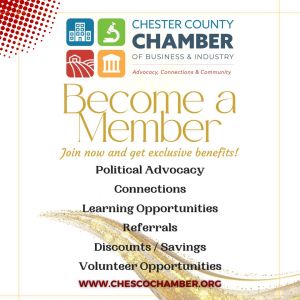 The Chester County Chamber of Business & Industry is the largest chamber in Chester County representing a diverse 650 businesses in our community. At the Chamber, we understand the importance of serving both large and small businesses to promote growth in our community. No matter the size of your business, we are ready to support you! Your important investment will guarantee you unlimited connections to regional businesses, access to letters of support and advocacy efforts for grant funding, advocacy on the business and industrial issues important to our community, and much more. With numerous networking, educational, and advocacy-related events a year, we encourage you to join and begin forging connections with other members today.
Political Advocacy:  As a Chamber focused on legislative advocacy, we are your advocate – your voice – in Washington, Harrisburg and across Chester County. Working for your business interests and for the future of small and large companies in our area, we are actively involved at a local, state, and national level in protecting and promoting free enterprise and supporting pro-business candidates for office.
Connections: The Chamber holds numerous networking events including our annual signature events, monthly business after hours, new member luncheons, and other social events throughout the year. It's true what they say: who you know does make a difference!
Learning Opportunities: Chamber seminars and workshops offer expert advice on how to operate and conduct your business.
Referrals: We receive hundreds of phone calls and emails each year from Chester County residents looking for specific business recommendations. Only members of our organization are given free referrals to these potential customers. What a great way to drive business to your door!
Discounts / Savings:  Save money when you buy products and services which in turn help you reduce your bottom-line expenses. With the offer of discounted products and services, your membership gives you a competitive advantage.
Volunteer Opportunities: Add extra value to your Chamber membership by volunteering for one of our committees, task forces, or special events.
Additional benefits include: a listing in our Annual Directory (sent to all members and professional offices across the region), a listing in our online directory, a new member spotlight feature on both our website and Chamber e-newsletter, social media posts and shares highlighting the good work of your business, and access to host meetings at the conference rooms located at the Chamber headquarters.
All new and potential members are encouraged to talk with Chamber staff to discuss how the Chamber can specifically benefit YOU, and help your business via networking, education, or marketing.
MEMBER TESTIMONIAL
"I joined the Chamber in May, 2022. As a Commissioner, I was familiar with the Chamber and attended many events over the years. Since joining, however, I have been impressed by the hands-on approach. This not only included invitations to events which have helped me grow my business, but even personalized outreach from Chamber CEO Laura Manion to present me with opportunities, partnerships, and initiatives, which I may have otherwise overlooked.  My Chamber membership has provided tremendous ROI. I'm certainly glad I made the decision to join!"

- Terence Farrell, President, For Real Solutions LLC, Former Chester County Commissioner